Spanish defender Sergio Ramos rejected an attractive contract from Premier League champions Manchester City to sign for Paris Saint Germain (PSG). This is according to Goal reporter Ruben Uria who also stated that the former Real Madrid skipper was given a two-year deal by the Champions League finalists.Manchester City also offered Ramos the opportunity to move to New York City in the Major League Soccer (MLS) when his contract at the club expires in 2023. New York City are part of the City Football Group and the Spaniard would have joined them on a three-year deal in two years' time as part of the offer made to him. In the end, he opted for French giants PSG and has since been unveiled by his new club on Thursday.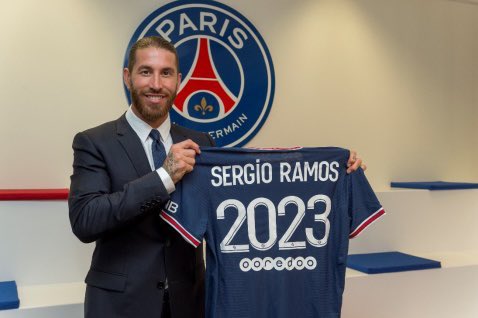 Ramos, 35, became a free transfer target for several top European clubs this summer after his Real Madrid exit was confirmed this summer. He left the 13-time European champions after failing to reach an agreement over a new deal. Ramos signed for Real Madrid from hometown club Sevilla in a big money move in 2005 and he went on to become a club legend winning 22 trophies during the 16 years spent with the La Liga outfit.He captained Real Madrid to four Champions League titles including three back-to-back titles between 2016 and 2018.
Apart from PSG and Manchester City, others like Manchester United, Arsenal, Chelsea and Bayern Munich were interested in signing Ramos though his salary demands proved to be problematic for some of the clubs. To this effect, Manchester City and PSG were the only two teams realistically in the race for him. Ramos was unable to turn down the offer from PSG while living in Paris also played a major role for him to opt for the French team at the expense of Manchester City thereby becoming the third summer signing after GeorginioWijnaldum and AchraafHakimi.